heep see
Fiery Furnaces
@ Town Hall
Lord how I used to love
that first one
, despite the huge falling out I had with my old friend, who drums on it, his style intimately familiar to my ears. Digging it out today, I'm almost shocked at how well it's held up, since after waxing about
Blueberry Boat
,
Blue Very Bloat
has not been much fun to return to.
And so they finally return to rocking and of course it's when everyone is seated in Town Hall. The rhythm section is BoC Godzilla stompy, smashing flat most of the studio nuances. I am shocked that the painful listening that
Rehearsing my Choir
is at home (it sounds as inaudible as the title suggests) actually shakes loose live with some listenable song-ish qualitites. Of course, my guest, who is not familiar with how the songs are changed around or whatever it is that the devout cling to with the band, finds them bland and boring, with every change the same, the organ flourishes wanky, and Eleanor too stiff and uptight, her singing flat and not right. At least they're not doing that "We're bored of our songs too in a deconstructed sense, so let's do it all as a Vegas medley" that they did last time.
My live review of this show will run at the Voice next week.

The Juan Maclean
@ Delancey Lounge
As I grind out a longish piece on both Juan and James Murphy, the sleek, impervious chrome gives way to something darker, more brittle. Live, the robotic facade is shattered and the album's glossy, synthetic coruscations grow barbed and sawtoothed, the aerodynamic beats harried and frayed. The remixes (Lindstrom and Prins Thomas's "Tito's Way" is ludicrous in its analog elongations while the Cajmere remix of "Give Me" sashays between ecstasy and acid) shake something different loose with each producer, all of which hinges on the alternately vampiric/bloodless vocals of Nancy Whang and what they do to them.

Metric
@ Bowery Ballroom
I haven't heard this group at all, but since I run into the PR folks who routinely send me stuff, maybe I just subconsciously buried it in the stacks. They come out to "O Superman" and Emily Haines, classy in her little black dress, gets even more classy by taking off her heels to do this running in place dance barefoot. Sasha's New Yorker blurb mentioned they would've been big in the early nineties, but with the ear towards Laurie Anderson and Blondie, I think it'd have to be the early eighties. That's how catchy it is, if anachronistic. My bourbon thankfully helped me forget the most political lines of the evening.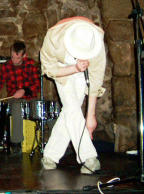 Excepter/ Yura Yura Teikoku
@ North Six
Coming across some Strawberry Fields Forever in that dank, permanently new paint odious-smelling dungeon of the N.6 backstage area, what better balloon mindstate could there be for Excepter? A hissing kingsnake throb, some smoke machine hooliganism, fauxhawked analords, and just as it seems to stick together like resin, it's just some sticky shit. Call it Village People capped woodblock abuse, or Karl Malden karaoke, but my hatless Beatles haircut is seriously bummed by the proceedings. My friend says it's excellent torture for his studio engineer.
Yura Yura Teikoku (whose name I don't even figure out until
Nick's entry
the next day) are locked in from the start. It's fine group interlocking, extended without dropping off the edge, but not as jammy as Nick's take suggested. Both the bassist (rocking that slimming black cypher like Keijo Haino) and the guitarist have trousers that match their amps. More than anything, it sounds like dudes that are into
Groundhogs
and
ZZ Top
but with the blues root of their boogie snipped. It's Heat, but not Hooker. If they weren't Japanese (yes, I made the Wisconsin jab), it's doubtful so many folk would have shook loose to see them, but it's not like I keep track of every hard rock band from Japan, so maybe they're huge in Brooklyn.